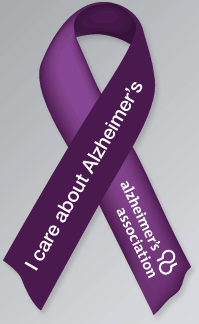 MOVE A NATION TO END ALZHEIMER'S


The Alzheimer's Association is happy to announce a new relationship with Caring.com to generate awareness and funds. We have teamed up to create a customizable purple ribbon widget (below). The ribbon can be posted to any Web site or blog and personalized with a loved one's name. For every purple ribbon posted, Caring.com will contribute $10 (up to $10,000) to the Alzheimer's Association! This is a great way for your constituents to show their support in the fight against Alzheimer's and raise money for the cause.
Create your purple ribbon today!
Purple is one of our beautiful colors and adds so much to our lives. Please join the fight to end this dreaded disease by adding a personalized purple ribbon.
EVERY 72 SECONDS SOMEONE IS DIAGNOSED WITH ALZHEIMER'S.
THERE IS NO CURE.