I can't explain how much fun we had! You just had to be there to experience the fun, laughter, joy, antics and aches & pains! There were 35 ladies from various chapters that attended the 2009 Red Hat Olympics (click to visit slide show). The event began at 12 noon with registration conducted by my Mom, Freddie, and signing up for events. At 1 p.m. Queen Mother Juanita of the Scarlet Threads of Largo, opened the Olympics by carrying a red and purple torch and marching everyone to the field to the tune of the "Olympic Theme".
The first event was Simon Says, conducted by my cousin Janice, the aerobics instructor. I had no idea she was going to put these ladies through an amazing workout with lively music that really got you movin your body! I saw things that should only be repeated at home. Bumps & grinds, droppin it like it's hot, Tae Bo moves, leg lifts - you name it, Janice had them doing it! One by one, ladies were sent to the sidelines and you would think they wanted to rest. Oh no! They were still working out and having fun! It took 17 minutes to declare Odessa Davis of the Ultimate Classy Hatters with Attitude the 1st place winner, Joan Patterson of the Scarlet Threads the 2nd place winner and Monica Lawson of the Ultimate Classy Hatters with Attitude as the 3rd place winner.

The next event was the Relay Race. The ladies were very creative balancing a ping pong ball on a wire spatula as they got around the basketball court any way they could as fast as they could. And the ladies did a wonderful job mixing chapter members to each team. The winners:
First Place: Gwen Jackson of the Scarlet Threads, Laura Norris of the MSA'S, Andrea Shields of the Scarlet Threads, Jeanita Pressley of the Scarlet Threads

Second Place: Gloris Butler of the Ultimate Classy Hatters with Attitude, Marion Solomon of the Ultimate Classy Hatters with Attitude, Odessa Davis of the Ultimate Classy Hatters with Attitude, Monica Lawson of the Ultimate Classy Hatters with Attitude

Third Place: Yvonne Johnson of the Scarlet Threads, Gloria Adams of the Scarlet Threads, Carolyn Tracy-Artis of the Classy Divas and Dazzling Younguns, Mary Harris of the Scarlet Threads
Unfortunately, The team of Ruth Daly, Mary Crawford, Mary Shepperd and Minnie Hamlett, all from the Xquisite D'evaz, were just a little too creative and had to be disqualified by the judges Monica Proctor and LaVerne Scruggs of the Scarlet Threads and Joan Bundy and Tess Young of the MSA's.

Discus Toss with a Frisbee was the next event. I love my Red Hat Sisters, but you may want to stand clear when some of these ladies have a Frisbee in hand. Some flew like an eagle, some flopped like a fish out of water and some just didn't know how to throw a Frisbee. I won't say who hit who in the head with the Frisbee! 1st place winner was Monica Lawson, 2nd place Emily Lowry of the MSA's and 3rd place Joan Patterson.

Javelin Throw with Water Noodles was next, with ladies showing form of true Olympic competitors. Marion Solomon took 1st place, Gloris Butler took 2nd place and LaVerne Scruggs took 3rd place.
Weightlifting with 2 purple 3lb weights attached together was the next event. 15 ladies stepped up to the challenge to demonstrate muscular strength lifting the attached weights in both hands. With a total of 39 arm curls, Monica Lawson won 1st place, Brenda Silver of the MSA's won with 36 arm curls and Emily Lowry won 3rd place with 35 arm curls.

To rejuvenate and network, lunch was served at 3:30. The buffet included mesquite chicken wings, turkey & swiss roll-ups, finger sandwiches, shrimp salad, deviled eggs, fruit salad, vegetable platter, rolls, ice tea and lemonade. Dessert was a chocolate cake with butter cream frosting, decorated with red & purple rose, a #1 trophy and the words 2009 Red Hat Olympics written in red. While enjoying our meal, a supposedly quiet game called "Getting To Know You" was conducted at each table. The premise of the game is for a spokeswoman from each table is to tell something about everyone else at their table. Everyone knows when you get a group of Red Hat Sisters together it's not going to be a quiet evening. Hatter Chatter is the 2nd popular activity of any Red Hatter besides Eating and Shopping!

It started to rain outside so the remaining events were canceled and the Award Ceremony began with the playing of "We Are The Champions". Trophies with the winning category were given to the 1st place winners, silver medals with the winning category hanging from red ribbon were given to the 2nd place winners and bronze medals with the winning category hanging from purple ribbon was given to the 3rd place winners. The 2009 Red Hat Olympic "Best Olympian" received a large trophy with a lady standing on a red crown. As you can see from the list of all winners MONICA LAWSON OF THE ULTIMATE CLASSY HATTERS WITH ATTITUDE took home that trophy!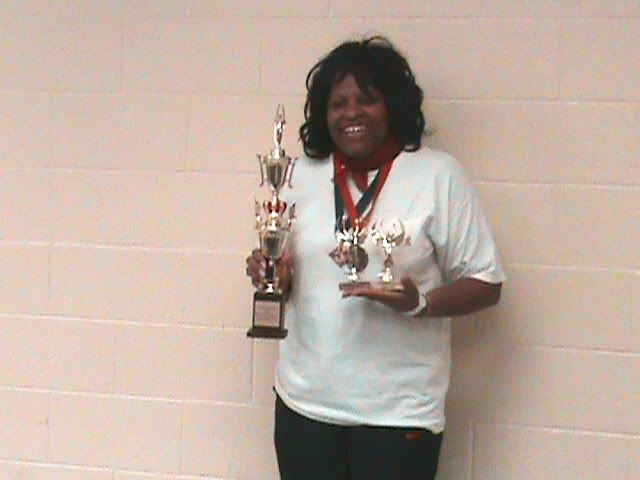 Thanks to everyone who came out on a questionable weather day and participated in the 2009 Red Hat Olympics. The rain stayed away until most events were played and a good time was had by all!
A special thanks to my family - My Mom Freddie Clark , my cousin Janice Wilkins (who came down from Trenton, NJ to conduct Simon Says), my cousins Dwight Wilkins and Darryl Wilkins, who provide the ladies with a little eye-candy (even though I couldn't talk them into treating us with a male dance revue) and Annette Scruggs. Thank you to the judges from various chapters that volunteered and a special thank you to Sandra Kelsey of the Scarlet Threads, who kept all the scores and winning list together and to Monica Proctor, Pink Hatter of the Scarlet Threads, who said she would pay 0 to judge us "little old ladies"! Believe me, I couldn't have done it without all your help and support. The 2009 Red Hat Olympics was such a success, Queen Mother Juanita has declared this will be an annual event sponsored by the Scarlet Threads of Largo opened to any and all Red Hat Chapters! I already have ideas for next year. SEE YOU THEN!